The Forbidden Art of Breeding Subscribers

Stealth-Mailer
Get a Heavy Flood of New Subscribers
or else 100% MONEY BACK
Dear Internet Friend,
What you're about to discover on this page is really going to blow your mind.
So, focus your fullest attention to this monitor for the next 10 minutes, and I will reveal to you the Deadliest, Rarely-talked-about, Top-Secret Tool that Power-Sellers and Marketers use, the world over.
One day, in the middle of the night, I unexpectedly stumbled across this deadly idea, and if you're even remotely interested in getting thousands of new subscribers for your ezine in a hurry, then listen up:
When you arrived at this page, you probably saw a pop-up
like the one shown below) that asked you to click 'OK' or 'Cancel'?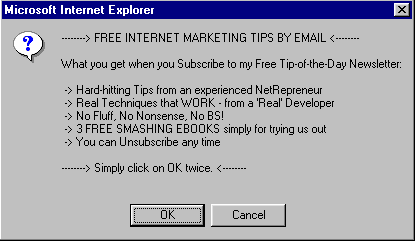 This is no ordinary pop-up asking you to enter your email address. All the pop-up asked you to do was click OK!
"Now, how can anyone subscribe to your newsletter by clicking 'OK'? Don't you need me to type my email address??", you wonder.
| | |
| --- | --- |
| Stealth-Mailer makes it possible... | |
"... has outperformed even my entrance pop-up..."




"Pop-up-Killing software can no longer prevent me from getting legally opt-in new subscribers."




"... my sign-ups went from 5 a month to 25 a day! Can I resell your script? Please?"




"My subscription rate increased by 600% times within one week of installing this script..."
The Stealth-Mailer is a program which will allow your visitors to
subscribe to your newsletter without even having to type out their email address !
This is one of the reasons the Stealth-Mailer has been called one of the most powerful and deadliest scripts in use on the web today.
How is that possible, you ask?
Not so fast, my friend. Keep reading.
Now, if you had clicked on 'OK' when the SM popped you the question (;-) you should be receiving a confirmation email from me in a few minutes, thanking you for your subscription to my newsletter (TOTD).
When they click 'OK', the Stealth Mailer uses your visitor's default email client (Eudora, Outlook Express, Outlook Exchange, Netscape messenger) to send you - or any email address you specify (even that of your list server) - an email from their default email address - which, obviously, contains their email address.

| | |
| --- | --- |
| Is Stealth-Mailer a Spamming tool? | |
Absolutely Not!
I know that the name might make it sound like one. But just like how the 'Stealth Bomber' is not a plane designed for illegal attacks on innocent citizens, the Stealth Mailer is not a spamming tool :-)
I know it's a rather wild comparison, but I do owe the name to the war plane, as it operates just as silently and as powerfully!
Stealth-Mailer is a totally legal, fully copyrighted, completely opt-in tool for letting people to 'voluntarily' opt in for your newsletter subscription.
In fact, unless your visitor clicks 'OK', you will not receive an email from them. So, your visitor always has the option of clicking on 'Cancel', and nothing would happen then.
Your visitor has complete control. S/he has to opt in.
In fact, it is totally spam proof!
| | |
| --- | --- |
| Benefits of Stealth-Mailer | |
| | |
| --- | --- |
| Features of Stealth-Mailer | |
Cost of the Script : $19.95
(OR)